DISCOGRAPHY
Piotr Szewczyk: Violin Futura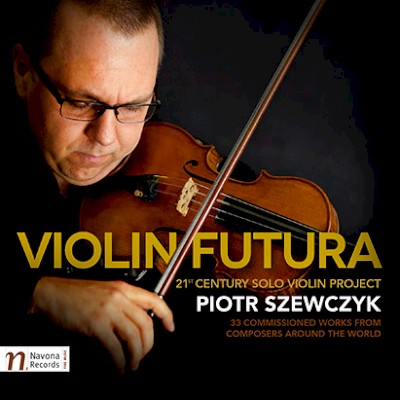 Featuring Patrick Castillo's Cirque.
Navona Recordings
US release date: 12 Feb 2016

In 2005, violinist and composer Piotr Szewczyk developed the Violin Futura Project, a collection of commissioned miniatures for solo violin that highlights over thirty international contemporary composers and how they are re-imagining the solo violin. "The purpose of the Violin Futura Project," says Szewczyk, "is to sample the creative environment of our times by showcasing the wide variety of styles present in the twenty-first century, and to create a body of new solo violin repertoire." Navona Records presents the album release of Szewczyk's project, VIOLIN FUTURA.

The miniature format acts as a foundation for a self-contained concert program, in a way crafting a larger meta-piece comprised of movements written by different composers. Each piece in this collection stands on its own, yet as a group, an enthralling musical landscape of the twenty-first century emerges. The project's focus on the solo violin miniature gives insight into how composers are implementing the aesthetic eclecticism of today, incorporating material from popular music, using extended techniques, and including written materials such as tabloid articles and poetry. With a group of international composers that crosses multiple generations, the listener is offered a variety of approaches to style and diction that are evolving concurrently.