DISCOGRAPHY
The Quality of Mercy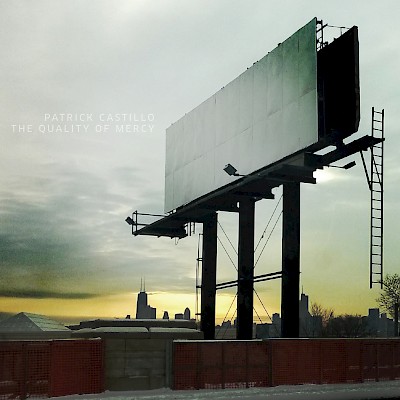 This Is the Hour of Lead
Cirque
The Quality of Mercy
Abigail Fischer, mezzo-soprano; Jill Heinke, flutes; Moran Katz, clarinets; Kristin Lee, violin; Karen Kim, violin/viola; Jessica Meyer, viola; Hiro Matsuo, cello; Lucille Chung, piano; Ian David Rosenbaum, percussion
innova Recordings
US release date: 13 Nov 2015

"affecting and sensitively orchestrated... [a] gorgeous, masterfully crafted canvas" –ClevelandClassical.com

"Contrasts in composition and sound design are plentiful on this fifty-two-minute collection, and The Quality of Mercy impresses as a bold and auspicious recording" –Textura

"[A]n expertly recorded, artistically packaged recording of three major compositions by Patrick Castillo on the enterprising innova Records, [The Quality of Mercy] showcases a composer deserving of wider exposure. ... The compositions featured on this disc are ... on the surface communicative, imaginative, and accessible, yet also a delight for the technical-minded to dissect. ... Patrick Castillo is a composer that has something to say and knows how to communicate his message. Look forward to more from this important voice." –I Care If You Listen

Patrick Castillo's debut album, The Quality of Mercy, presents two large-scale vocal chamber works featuring mezzo-soprano Abigail Fischer ("a passionate restraint that has no equal in her generation" –The New York Times) and a crack ensemble of some of the country's finest chamber musicians.
The album begins with This is the hour of lead, a solemn contemplation of death and loss. Bookended by settings of poetry by Dickinson and Yeats, the five-movement work charts the complicated emotional terrain of grief, anger, and acceptance through a pair of dramatic interludes and, at the cycle's center, a rhapsodic vocalise. Complementing the representational nature of This is the hour of lead, the album's title work,The Quality of Mercy, offers an abstract meditation on reconciliation. Deriving musical and structural content from plainchant (the Kyrie from the Mass for Pentecost), The Merchant of Venice, birdsongs, urban field recordings, and other sources, the work moreover explores the concept of reconciliation by integrating conflicting methods and materials: live instruments cooperate directly with electronic media, with much of the work's soundscape constructed organically via live audio processing of acoustic events. Between these two works, the album features Castillo's Webern-esque Cirque for solo violin, performed by Grammy Award-winning violinist Karen Kim.
The album's overarching concerns with poetry, color, austerity, and restraint as a means of expression are echoed in the album's artwork, featuring photography by John Rose.
In addition to Fischer and Kim, The Quality of Mercy features flautist Jill Heinke (Areon Flutes, REDSHIFT), clarinetist Moran Katz (First Prize, Freiburg International Clarinet Competition, Houston Symphony's Ima Hogg Competition), violinist Kristin Lee (Avery Fisher Career Grant, Chamber Music Society of Lincoln Center), violist Jessica Meyer (counter)induction, Q2 "Emerging Women Composers"), cellist Hiro Matsuo (Cincinnati Symphony Orchestra), pianist Lucille Chung (First Prize, Stravinsky International Piano Competition; Second Prize, Franz Liszt International Competition, Montreal International Competition), and percussionist Ian David Rosenbaum (Chamber Music Society of Lincoln Center, Sandbox Percussion, Pittsburgh New Music Ensemble).